Welcome

Contract and Grant Accounting provides the University of New Mexico's research community with professional expertise and quality customer service in the management of external funding. We strive to provide guidance and support to ensure compliance with UNM policy, state law, federal regulations and agency terms and conditions of funding.  
Building Access Control Update
In order to support a safe and secure campus environment for our Lobo community, beginning Monday, August 15, 2022, building access control will be activated at the UNM John and June Perovich Business Center located at Lomas and University. This will include the main building and the HR Service Center. All UNM students, faculty, staff, retirees, and affiliates who have a UNM Lobo ID card with proximity privileges will use their UNM Lobo ID card to gain access to the building during normal business hours. Those who do not have a UNM Lobo ID with proximity privileges will still be able to gain access to the building by using the air phone located outside the building.
Please make sure your UNM Lobo ID card has proximity access. If your UNM Lobo ID card does not contain numbers (5 or more digits) located on the back-right corner, you can easily obtain a new proximity card. Simply visit the UNM LoboCard Office at your earliest convenience, turn in your old card and receive a new card with proximity privileges. The UNM LoboCard office is open Monday – Friday, 8:00 AM – 4:45 PM for walk-ins. You can also apply online at https://lobocash.unm.edu/your-card/upload-lobocard-photo.html. There is no cost to switch to a proximity card.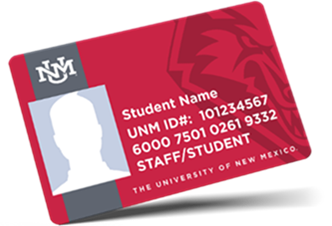 However, if you do not have an old card to turn in, there is a fee to replace a lost card.
Lost or Stolen Card :: LoboCard Office | The University of New Mexico (unm.edu)
Follow Us On Twitter!
Tweets by @UNMCGA